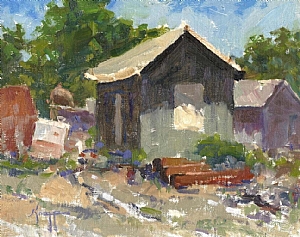 ARTIST OF THE YEAR -- I AM SO EXCITED! THE FOLLOWING IS A LITTLE PRESS RELEASE YOU MIGHT ENJOY. NOW I HAD BETTER GET BACK TO PAINTING WHILE I STILL HAVE A BUZZ FROM ALL THIS EGOCENTRIC STUFF. Myra
Seguin, Texas artist, Myra Knapp, has been awarded Artist of the Year by the New Braunfels Art League, New Braunfels, TX. Chosen from a field of twelve artists, each competing and winning the title of Artist of the Month earlier in the year, Ms. Knapp received the initial award for March 2010 making her eligible to enter the field of competition for the prestigious Artist of the Year award.
Known for her impressionist landscapes in oil, Knapp divides her painting time between working in her Seguin, Texas studio and painting en plein air, or in the out-of-doors. Using both painting environments gives Knapp's oil paintings strong design elements and the bold use of broken color.
Knapp has studied oil painting and design with many nationally recognized artists and lived and studied art for two years in Europe. As an associate member of Oil Painters of America for ten years, Knapp has been selected to show in four OPA regional shows. In Texas Knapp has been selected to show at the Greenhouse Gallery's "Salon International" four times.. Her work can be seen at the Gallerie at Gruene in New Braunfels, TX 1633 Hunter Road, Gruene, TX (830) 626-6250 or on her website at www.myraknapp.com