Subtle Differences
by Myra Knapp on 10/7/2013 4:48:17 PM
Comment on this



I won! I won! Kerrville, Texas Outdoor Painters Event

I am so excited -- I was awarded a 2nd place for my painting "Subtle Differences". Jo Anna Arnett, renown artist and judge, selected my newly finished painting, for the prize. The painting was done on a 12 x 16 linen panel in oil at a low water crossing just above the Guadalupe River and beneath a very cloudy, no-sun morning, The lighting was so soft, moody and had very little contrast. It was a challenge but I was determined to make use of the last three hours of painting time before wet canvases were to be turned in for judging.
Kerrville (Texas) Outdoor Painters' Event was one of the best painting events I have been a part of. Every detail was tended to including a wonderful artists' reception giving us an opportunity to meet other artists and second "opening reception" that showcased all the paintings completed during the three-day event. There were loads of places to paint within reach and we were given access to many private ranches where there were wonderful views of the Guadalupe River, tons of old buildings to paint, old cars and tractors and farm implements, Limestone cliffs and river spillways. It was awesome!
The event was presented by the Kerrville Arts and Cultural Center (www.kacckerrville.com) and do these folks have their act together. If you are a painter, do check out next year's show. You will really enjoy it all.
Comment on or Share this Article >>
---
Painting Accepted into American Impressionist Society Show!
by Myra Knapp on 7/23/2011 11:35:28 AM
2 Comments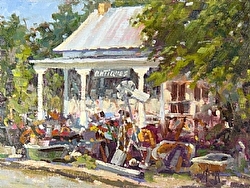 It is so great when things somehow line up. I submitted a painting to the 12th Annual American Impressionist Society show to be held in the Mountainsong Galleries of Carmel-by-the-Sea, Calif. The premier opening will be October 21 and will be there until the show ends on November 15, 2011. I am so thrilled to have been one of the artists chosen from a field of 1400 paintings and the best of all things, my family lives in Carmel so I will be able to attend all the gala events with friends and family there. Yea!
Comment on or Share this Article >>
---
Myra Knapp wins ARTIST OF THE YEAR!
by on 1/26/2011 3:53:26 PM
Comment on this



The Shack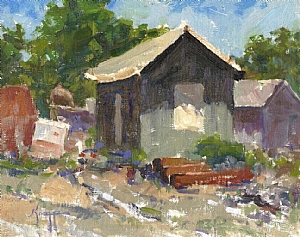 ARTIST OF THE YEAR -- I AM SO EXCITED! THE FOLLOWING IS A LITTLE PRESS RELEASE YOU MIGHT ENJOY. NOW I HAD BETTER GET BACK TO PAINTING WHILE I STILL HAVE A BUZZ FROM ALL THIS EGOCENTRIC STUFF. Myra
Seguin, Texas artist, Myra Knapp, has been awarded Artist of the Year by the New Braunfels Art League, New Braunfels, TX. Chosen from a field of twelve artists, each competing and winning the title of Artist of the Month earlier in the year, Ms. Knapp received the initial award for March 2010 making her eligible to enter the field of competition for the prestigious Artist of the Year award.
Known for her impressionist landscapes in oil, Knapp divides her painting time between working in her Seguin, Texas studio and painting en plein air, or in the out-of-doors. Using both painting environments gives Knapp's oil paintings strong design elements and the bold use of broken color.
Knapp has studied oil painting and design with many nationally recognized artists and lived and studied art for two years in Europe. As an associate member of Oil Painters of America for ten years, Knapp has been selected to show in four OPA regional shows. In Texas Knapp has been selected to show at the Greenhouse Gallery's "Salon International" four times.. Her work can be seen at the Gallerie at Gruene in New Braunfels, TX 1633 Hunter Road, Gruene, TX (830) 626-6250 or on her website at www.myraknapp.com
Comment on or Share this Article >>
---
Successful at San Luis Obispo Plein Air Festival
by Myra Knapp on 10/9/2009 4:03:55 PM
2 Comments



San Luis Obispo Plein Air Festival 2009

What a fun event! I had not painted in the San Luis Obispo, CA area before which made this plein air event even more exciting. Five perfect weather days, forty plus wonderful participants, event planners and docents made this event one of the most fun events ever. With boats, harbors, Cypress and Eucalyptus trees, estuaries, coastal shoreline, fishing docks and huge rock outcroppings, etc., how could a painter go wrong! I loved every moment of the event -- even the "Quick Draw" held on the blustery Saturday morning brought out the best in all the painters. If you have not been in the area before, be sure to take a trip to the San Luis Obispo area. Thank you Russ Ferriday for taking this nice photo.
Comment on or Share this Article >>
---
San Luis Obispo Plein Air '09
by Myra Knapp on 9/12/2009 4:24:06 PM
Comment on this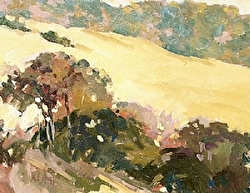 I will be heading to San Luis Obispo, California September 27 - October 4, 2009 to join in the fun of painting the beautiful California vineyards, barns, golden hills and coastline. Fifty artists (including me) have been accepted to be part of this great event. The fun begins when we artists have our canvases stamped with the official seal, dash out to various locations in San Luis Obispo County, and paint like mad until Friday when we will turn in three finished and framed wet paintings. These paintings will be on display beginning Friday, October 2 from 4 to 9 p.m. when the public will have a chance to purchase these wonderful paintings. If you happen to miss this portion of the event, head to the Art Center and historic Old Mission Plaza Saturday, October 3 at 9:30 to watch the "Quick Draw, Paint Out" where all fifty artists will be painting en plein air for two hours, finish and frame their works and offer the paintings for live auction at noon.
Pressure, pressure, pressure for us all but what an exciting time we will all have. If you would like more detailed information concerning this event, go to
www.sloartcenter.org
and look for the Plein Air '09 logo.
Comment on or Share this Article >>
---
Catalina workshop
by on 3/26/2009
2 Comments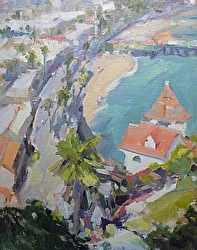 My small study of Avalon Bay

Thought you would like to hear about this past week's events.
Twelve other plein air artists converged on Santa Catalina Island's little city of Avalon to join Ron Rencher for a week-long workshop. What a wonderful experience. We spent every day painting the beautiful emerald waters, piers and landmarks that make up this magical island while keying in on some of Ron Rencher's expert advice. Ron shared many stories about the days when the Plein Air Painters of America (PAPA) held their annual painting event in Avalon. It was such fun to paint the same motifs that you know were painted by artists of the past. Avalon has been an artists destination for many, many years -- I can certainly see why, it is absolutely beautiful.
While painting one day, Ron Rencher and fellow artist, Sherry Wooley and I were filmed for the website promoting Catalina Island. You can see it at
www.eCatalina.com
and look for events then Ron Rencher.
Hope you will have a chance to visit Catalina Island some time soon. Just get yourself to Long Beach, CA then take the ferry 26 miles to Santa Catalina Island --
sounds like a song doesn't it
,
hmmm!
Comment on or Share this Article >>
---
Email Newsletter


Follow this Blog



 Archives:Oct 2013
July 2011
Feb 2011
Jan 2011
Feb 2010
Oct 2009
Sep 2009
Mar 2009




kattknapp@sbcglobal.net